How Much Pest Control Cost In Houston, TX | Find Pest Control Service Near You
In Houston pest control services cost around $188 for a one-time treatment, and/or between $32 – $46 for weekly services. Here's what you need to know before you hire a pest control company in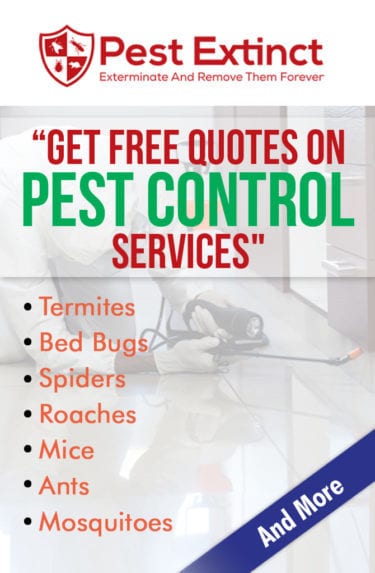 your area.

How much does pest control cost? When you're searching for the best pest control company in Houston, explore average costs for treatment and what they include.
Houston is perhaps best known for its space and science contributions. The little-known fact? The reason folks were so keen to escape the atmosphere was because of Houston's bugs.
Okay, that's a bit unfounded. But bugs are a problem for everyone, and if your home has an infestation, you're likely hoping to leave the planet as well.
Here's a list of pest control costs in the Houston, Texas area.
Reliable Pest Control Companies in the Houston area:
Accurate Home Services
24420 FM1314 Suite 15
Porter, TX 77365
Preventive Pest Control
12009 Almeda Genoa Rd
Houston, TX 77034
Hunter Pest Control
1241 W 22nd St
Houston, TX 77008
Pest Control quotes within 50 miles of these zip codes: 77055, 77002, 77003, 77006, 77021, 77023, 77026, 77008, 77030, 77033, 77011, 77054, 77012, 77029
Pest control  services are also available in these nearby Houston cities: Pasadena, TX; Pearland, TX; Baytown, TX, Sugar Land, TX; Humble, TX; Cinco Ranch, TX

Average Pest Control Costs
In general, the average cost of a pest control visit, nationally, was $170. There's a pretty wide range for a single visit, however, with the costs being as low as $108 to as high as $500.
Fortunately, most pest control companies will provide free quotes on-site to give you a better range of what you're looking to spend on their services.
Note, however, If you need periodic and consistent visits by pest control professionals, your prices can range as well.
Monthly rates can be anywhere from $20-$50. Bi-monthly charges are $50-$60. And Quarterly visits (every three months) range from $100-$300.
Don't think if you're living in a one-bedroom ranch that you'll be paying as much as someone living in a McMansion. The larger the square footage, the more on average you'll need to pay.
Some exterminators will even add additional charges to your bill for every 1,000 square feet above a set limit, such as 1,500. Make note of these additional charges when you go to hire a professional exterminator.
Pest Control Solutions in Houston
There are a lot of different types of pests in Texas. For each that invades your home, different methods, measures, and numbers of visits are required.
Sometimes pests can be exterminated with one visit, however, others require annual or even monthly visits. Here's a list that might give you a better idea of costs per service:
Depending on your pest, you may require more visits to your home. If the pests return seasonally, it can be good to plan ahead to try and prevent them from invading your home early. Here are a few companies that specialize:
Its Bugs or Us serves the Houston area and offers yearly mosquito control
Houston Pest Management is well regarded for its millipede pest solutions
Bug It offers consultations on numerous pests and will help insulate danger-zones, like attics
Inspectors typically will have specific service areas. However, if your home resides outside one of their areas you could incur an additional remote location charge or traveling fee.
How Long Does Pest Control Treatment Last?
Two factors are involved here: the materials used to treat the pests, and just how stubborn those pests are. As a cover-all, expect roaches, spiders, moths, and others to last for a few months, potentially requiring more than one treatment.
The process is rather simple. A technician will enter the home and spray high-grade pesticides in infected areas, the baseboards, and potentially the exterior of the home. Typically this is done as a preventative from further pests from entering the home.
Because these treatments lessen in effectiveness over time, a single treatment doesn't guarantee you're out of the woods forever. A professional pest control contractor can provide you with the best defensive strategy for you and your home.
When consulting your contractor, note their varying guarantees. Certain companies will offer free additional treatments if pests return before the given length of time.
Termite Treatment
Houston ranks nationally as a city with one of the highest termite infestation rates. Termites pose structural damage to your home and can cause massive amounts of damage if left unchecked.
And that damage takes a toll on the wallet, too.
Fortunately, modern termite treatments are particularly effective and last quite some time. Liquid treatments, for example, can last up to five years.
This kind of treatment involves the use of liquid pesticides and takes time to apply. These chemicals can be harmful to the environment and can't guarantee to kill the colony itself, which is why there are other methods of termite extermination.
Baiting stations are a less invasive way to treat termite infestations. Your technician will install these around your property. When a termite takes the bait, they'll carry it back to the colony where a small, but the lethal dosage of pesticide will eliminate them.
This process can be time-consuming, depending on how stubborn the termites are at taking the bait, but it is more environmentally-friendly than the liquid treatments.
Ant Treatment
Ant treatments depend on the severity of the infestation. Expect monthly visits to your home for a minimum of three months. After this, you can operate on a month-to-month basis, ideally lasting no longer than six total.
An inspector will search out and destroy the anthill using a special pesticide to prevent further infestations.
Continue to monitor the once-infested areas of your home, as you may require quarterly visits going forward.
Tips for Hiring a Pest Control Exterminator
Do your research when sifting through prospective pest control contractors. Check for proper licenses and any accreditations catering to Houston, specifically.
Don't be afraid to ask to see the contractor's pest control license. You're entitled to confirm they're professionals!
Another helpful tip is to ensure your pet control contractor isn't going to nickel and dime you. Ask if re-treatments are free, and make sure they're covered under the contractor's service guarantee.
Ensure they have a record of timeliness and don't let them upcharge you for same or next-day services. You need your home pest-free ASAP. Your contractor should understand that and not charge you more than the expressed fee.
A final piece of advice: know what pesticides, repellents, and/or bait your contractor is using. How will it be applied? Will it damage or leave residue in your home?
Ideally, no. And your contractor should happily provide the information to you upfront so you know exactly the service your getting.
Don't Delay, Remove Pests Before It's Too Late!
Pest control costs are widely varied. If you notice an infestation breakout beginning, get a jump on it! Hire certified professionals who can get rid of unwanted pests and save you some money, to boot.
Catering to the Houston area, reach out today for information on quotes and with any questions you may have.
Find a Pest Control Company Near You. We work with pest control companies all over the US and in your area so you can get free quotes from top providers.
Pest Extinct
Pest Extinct | Houston, TX
Address :
5925 Kirby Dr,
Houston,
TX –
77005
USA.
Email : info@pestextinct.com