How Much Pest Control Cost In Phoenix, AZ | Find Pest Control Service Near You
In Phoenix, pest control services cost around $225 for a one-time treatment, and/or between $33 – $49 for weekly services. Here's what you need to know before you hire a pest control company in your area.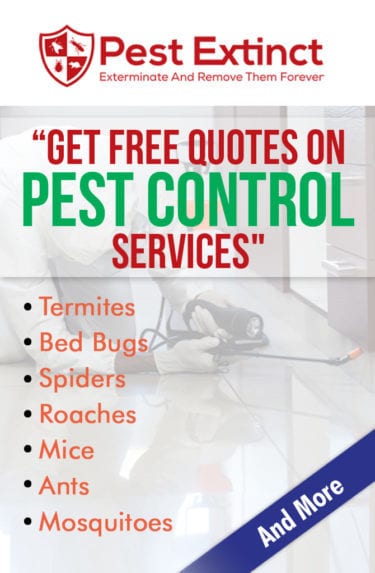 When you need professional services to rid your Phoenix home or business of uninvited pests, explore the average pest control cost.
Thanks to the Covid-19 pandemic in 2020, cities across America see a rise in pests. Rodents and bugs fill the void as restaurants, and office buildings remain empty or with far less capacity than normal.
Likewise, these hungry city pests now without their traditional sources of food migrate to spaces where they can find it in houses and apartment buildings.
Maybe you've noticed signs of pests while working from home that you never noticed before.
If you've seen pests in your home and business, you need to call a professional.
Reliable Pest Control Companies in the Phoenix area:
Urban Desert Pest Control
5020 W Yearling Rd
Phoenix, AZ 85083
Insectek Pest Solutions
1720 E Robin Ln Unit 3
Phoenix, AZ 85024
Moxie Pest Control
4620 E Elwood St #12
Phoenix, AZ 85040
Pest Control quotes within 50 miles of these zip codes: 85003, 85004, 85006, 85007, 85008, 85009, 85012, 85013, 85014, 85015, 85017, 85019, 85020, 85021, 85022, 85023, 85024, 85027, 85029, 85032, 85034, 85035, 85040, 85041, 85042, 85043, 85045, 85048, 85050, 85051, 85053, 85054, 85083, 85251, 85254, 85255, 85282
Pest control  services are also available in these nearby Phoenix cities: Tempe, AZ; Scottsdale, AZ; Mesa, AZ; Glendale, AZ; Chandler, AZ

Why Do You Need Pest Control?
What's the harm in a little mouse? Or a cockroach? If you see one, more than likely, there are many more in your home. These pests multiply, and seeing one means there either are or will be many more.
If one found a way into your home, you can be sure more will follow.
Rats, mice, and bugs also spread disease. Rats and mice spread over 35 diseases worldwide through either direct contact or through the ticks and lice they carry on their bodies.
A pest infestation can also bring structural damage to your home. Rats, mice, and other rodents can chew through your walls and your electrical wiring. Bugs like termites and carpenter ants cause major structural damage if unmitigated.
What Kinds of Bugs and Rodents Do Pest Control Services Handle?
Insects
The best pest control company will handle a wide range of common household insects and rodents.
Under a general pest control mitigation plan, pest control companies work to eliminate household insects like cockroaches and termites. This service also covers an ant infestation, silverfish, spiders, and moths.
Another insect pest notoriously hard to get rid of is bedbugs. If you notice a bedbug infestation, make sure to consult a professional to rid your house of them.
Rodents
When thinking about a rodent infestation, the most common are mice and rats. Searching for warmth and food, these rodents have the ability to squeeze through the tiniest cracks and holes in your home's exterior.
In normal times, the best way to prevent rats and mice was cleanliness. Thanks to the change in human habits because of Covid-19, a rat or mice infestation is no longer associated with a dirty home.
Though rats and mice are the most common rodent infestations, there are others. Squirrels and raccoons love to find warmth and shelter in attic spaces.
Listening to a family of squirrels or raccoons running scampering across your attic and in your walls is not only annoying, but it's also dangerous.
These pests will not only leave dangerous droppings and promote disease, but they compromise the structural integrity of your home and can cause a fire hazard.
Types of Pest Control Services
Usually, pest control for invaders such as ants, spiders, and roaches are standard services. However, dealing with rodents or termites ups the price for treatments.
How Much Does Pest Control Cost?
The cost of pest control depends on the type of infestation you have.
A one-time pest control plan for ants or other bugs can cost you between $100-$280. These services are simple in nature and usually involve the technician spraying around the outdoor perimeter of your house and the baseboards inside.
This monthly process helps keep bugs from entering your home. Any pest control Phoenix should also help with scorpion infestations.
More complicated infestations cost more money. A rat or mouse infestation requires not only the materials needed to rid your home of these rodent pests but the materials to seal up all entry points.
Pest control cost also depends on the severity. A one-time visit for a wasp nest in your backyard will be far less money than a cockroach or termite service that requires multiple visits.
You may have to lock in a monthly or quarterly treatment plan if your home or business is in a high traffic area for pests or rodents. Do you live near restaurants or bars? Your home may need more frequent treatment.
How Long Does Pest Control Last?
General pest control for insects lasts a few months. If you have a serious bug problem that home remedies couldn't solve, you'll need to subscribe to a quarterly plan to keep your home bug and insect-free.
An ant infestation requires more upkeep. An ant extermination plan requires once a month service from three to six months, depending on how severe your ant problem is.
Roaches require regular visits, while bedbug treatment is often indefinite unless you've eliminated their source.
Rodent treatment can last a few months or a lifetime, depending on how much effort you put into your treatment plan. A professional will examine your house for entry points and trafficked areas.
They set traps in those areas rodents love like kitchens, basements, and any other area where there is an entry point. They then work to seal the areas of your house where rodents can enter.
A home rodent infestation requires multiple visits to ensure the problem is solved, yet once your home is rodent-free, it's up to you to make sure you do the work like keeping your food in airtight containers and ridding clutter, so they don't come back.
The Cost of Pest Control
You ask, "What is the best pest control cost near me?" The answer is the one that can solve your pest problem at a reasonable cost.
Pet control cost depends on the nature of your infestation and how severe it is. Some pest control can be very simple and require one visit. Other pest infestations require monthly or quarterly visits for years.
Are you looking for expert pest control in the Phoenix, AZ area? Contact us today for an estimate.
Find a Pest Control Company Near You. We work with pest control companies all over the US and in your area so you can get free quotes from top providers.